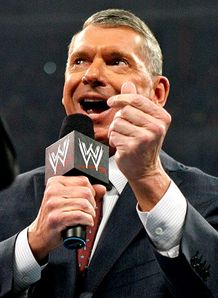 Prior to Sunday's Royal Rumble match, three years had lapsed since Booker T's most recent appearance in a WWE ring. For Kevin Nash, the Rumble marked his first WWE performance in over seven years. With both men reportedly slated to participate in TNA's resurrected "Main Event Mafia" angle, one might not have expected the two to show up in the Rumble match – at least until last weekend, when the rumor mill began to churn, and both men were spotted entering Boston, Massachusetts. Ooh, how scandalous!!!!
Booker and Nash aren't quite relics, sure, but let's remember that WWE is in the midst of an unprecedented youth movement. What could possibly have been the motivation for bringing Booker and Nash back into the fray, at their "advanced ages?" Well, both men are, arguably, contenders for the Hall of Fame, and what better place than Atlanta to induct two of WCW's biggest stars ever? Nash stated in an interview earlier this week that he expects to sign a "Legends" deal with WWE, which hints at possible Hall of Fame glory around the corner. It doesn't hurt, either, that his BFF is the frontrunner for this year's class. As far as Booker's concerned, he's already (spoiler alert!) returned to full-time WWE TV as a member of the Smackdown announce team. So neither he nor Nash is going anywhere any time soon.
The Hall of Fame is all well and good, as is a position at the announce table. But, as we briefly discussed during this week's edition of IN THE ROOM, the timing of this move seems too suspicious – especially when we take into account the lengthy absences Booker and Kevin have had from the company. It's easy, when we consider a few things, to come to the conclusion that this is less of a pat on the back for two former employees and more of a middle finger to the distant number two promotion.
The absence of Nash and Booker from the current "THEY" storyline on Impact has forced TNA to immediately switch the members of Fortune over to the corner of Kurt Angle – whom they were ganging up on as recently as one week ago. Furthermore, TNA brought back Scott Steiner (much to Ric Flair's chagrin) to round out a now unfinished stable of veterans. When's Sting coming back? Check today's headlines. Yes, him, too. Are you really surprised?
Forget WWE's motivations for a minute. Is this really such a bad thing to happen to TNA? Sure, they've lost two – scratch that, THREE – guys with definite name recognition, but what have Nash, Booker, and Sting done for TNA's Nielsen ratings and/or buyrates in recent years besides hold them steady? TNA doesn't have the visibility WWE does, and the real way to change that is not to bring in the stars of yesteryear. Product differentiation is the only worthwhile approach if the brand is ever to grow. If TNA wants to move beyond mediocrity, it needs to try something different.
TNA: to paraphrase the other Sting, if you love something, set it free. Let Booker and Nash, and yes, even the Stinger enjoy their time "up north." Forget all about the original plans, TNA, forget your glorious Angle O' Many Swerves (c), and work on making this new version of the storyline the best you possibly can. Shift the focus over to AJ Styles, to Beer Money and to Kazarian. Worry about Matt Morgan, Pope, and Samoa Joe. Take a few chances. The rating's been pretty consistent, so see what you might do to actually improve it. While you're at it, thank WWE. Thank them for reminding you not to put all of your eggs into older, slightly worn out baskets. You've got some loyalty left in your homegrown guys, and you've got the most potential for growth by exploiting the talents of those performers to the fullest. As fans, we beg you…make us grateful for Vince McMahon's spiteful business practices! Do it now!